Services available
Home or office hardware and software installation

Computer repairs and maintenance

System recovery
Omnis Studio
The development tool of choice, without any doubt for Datarich Solutions, is Omnis Studio. Providing all the features one might expect from a modern day Windowstm application, Omnis enables the experienced developer to quickly assemble a working and highly reliable system for virtually any business. Its on-the-fly development flexibility means that even after the client has started using the initial application, the developers can continue adding to and improving the program without any disruption to the working system and stored data.
In April 2006, the Tiger Logic Corporation (formerly Raining Data) published a "datasheet" for its Omnis Studio product. An extract of which can be seen here..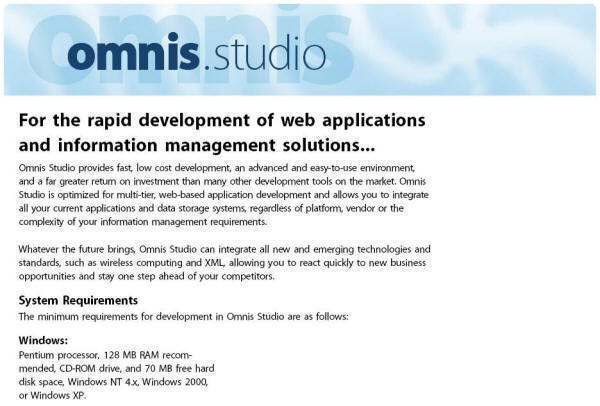 For further information about the power and flexibility of Omnis you may like to visit the Tiger Logic Corporation's dedicated web site www.omnis.net
Application development
Whatever your line of business, Datarich Solutions would be more than happy to discuss your database requirements, and how the Omnis Studio product could be tailored to suit.
So confident are we of the Omnis Studio capabilities that Datarich Solutions is prepared to offer a free consultation for prospective clients.
Once you have made your decision, and following acceptance of a development proposal and pricing structure;
Datarich will work with you 'the client' to quickly provide a solution that:-
· delivers all the tools necessary for quick and accurate input and retrieval of your valuable data

· presents user friendly screens, styled precisely to your quite individual needs, which make full use of modern GUI techniques

· offers a choice of printed output – from listings, letters and mail-shot to invoices, purchase orders and more..
Beginning with – design, planning, development and implementation, you will naturally receive one year bug fix maintenance. You may also choose to compliment this with an ongoing support programme:-
· helpdesk support with on site training

· further development and/or modification of the database as your business grows in an ever changing world